Day Trips - Salisbury Cathedral & Stonehenge Tour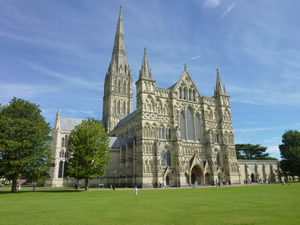 If you are thinking of visiting Salisbury cathedral and Stonehenge, we can offer the perfect package from London and surrounding areas. We can accommodate up to 6 passengers in an air conditioned London Taxi.
Salisbury cathedral is home to the best remaining copy of the Magna Carta (1215) and has the tallest church spire in the U.K. The church originates from 1258 and visitors can take the tower tour where you can view the ancient wood scaffolding.
After visiting Salisbury Cathedral, you can have lunch followed by a trip to Stonehenge. The ring of standing stones is a world heritage site and is set in the middle of hundreds of burial mounds. The stones are thought to date from around 3000BC and attract thousands of visitors each year.
This tour is a full day excursion and is £370 fully inclusive*
Please note this does not include tickets for Stonehenge and Salisbury cathedral tower
Tickets for Stonehenge and Tickets for Salisbury tower
For more information please contact us now.
Enquire Now